Services Offered by ESMAC
Residential and Commercial Shingle Roofing
At ESMAC, we specialize in providing high-quality roofing solutions for both residential and commercial properties. Whether you need a new roof installation, roof repairs, or a replacement for an existing roof, our experienced team is here to help. We understand the unique requirements of residential and commercial roofing projects and strive to deliver exceptional results tailored to your specific needs. With our expertise and attention to detail, you can trust us to provide a reliable and durable roofing solution that enhances the aesthetics and functionality of your property.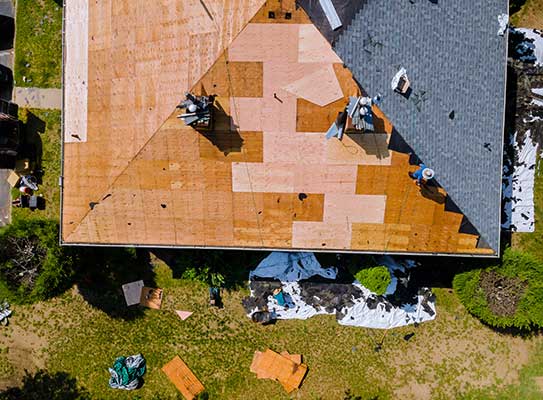 Roof Repairs and Maintenance
Roof maintenance is essential for prolonging the life of your roof and preventing costly repairs. Our roof repair and maintenance services are designed to identify issues at an early stage and address them proactively.
We believe in preventing leaks rather than simply patching them after they occur. Our planned maintenance programs ensure regular inspections of your roof, allowing us to identify potential problems and address them promptly. By choosing our maintenance program, you'll receive the added benefits of gutter cleaning and leaf removal, ensuring optimal performance of your roof.
Additionally, customers with maintenance programs receive top priority for service after damaging storms. With our comprehensive roof maintenance services, you can extend the lifespan of your roof and maximize the return on your initial investment.
Duro-Last® Roof Maintenance
ESMAC is proud to offer maintenance services specifically designed for DURO-LAST® roofs. DURO-LAST® is renowned as "The World's Best Low-Slope Roof," and after 15 years of being a dealer, we can attest to its exceptional quality. The combination of custom fabrication, innovative accessories, stringent manufacturing quality control, and thorough roof inspections make DURO-LAST® roofs as close to trouble-free as possible. In fact, the DURO-LAST® non-residential warranty, written in simple English, even covers consequential (inside) damages, showcasing the manufacturer's confidence in their product. By following the recommended maintenance guidelines for DURO-LAST® roofs, you can ensure optimal performance and maximize the lifespan of your roof.
Choose ESMAC for Professional Roofing Services
With ESMAC, you can expect professional and reliable roofing services tailored to your specific needs. Whether you require residential or commercial roofing solutions, roof repairs, or comprehensive maintenance programs, our experienced team is dedicated to delivering exceptional results. 
Trust ESMAC for all your roofing needs and experience the difference for yourself. Contact us at (334) 347-0039 today to learn more or schedule a consultation.